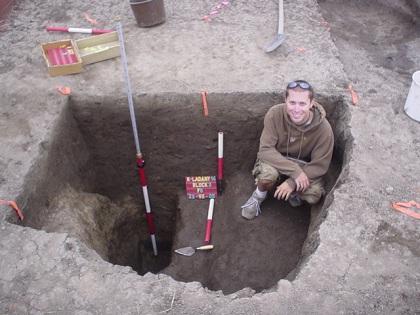 Biography
Tim entered the graduate program in the Anthropology Department at Florida State in 2005 after spending two years managing historical and cultural resource programs at the Blue Ridge Center for Environmental Stewardship outside of Washington, D.C. He had previously earned my B.A. in Sociology and Anthropology at Millsaps College, and spent his undergraduate years honing an interest in European prehistoric archaeology, and the Holocene prehistory of the Great Hungarian Plain in particular.
While at Florida State, Tim spent several summers in Hungary working as a trench supervisor and teaching assistant on the Koros Regional Archaeological Project. He subsequently spent two seasons conducting field research for his dissertation, which examined settlement patterns, changes in ceramic technology, and the relationship between regional material cultures and local demographic change during the Late Copper Age Baden period (ca. 3,500 B.C.) on the Hungarian Plain. Tim defended his dissertation in 2010 and graduated in the spring of 2011.
During and after his graduate work at FSU, Tim spent nearly six years with the National Park Service Southeast Archeological Center conducting archaeological research in parks throughout the southeast. Since 2012 he has served as Compliance Review Supervisor and Deputy State Historic Preservation Officer for the Florida Division of Historical Resources in Tallahassee.
Tim's research interests and areas of specialty include the use of geographic information systems in archaeological research, and the study of prehistoric pottery using Instrumental Neutron Activation Analysis (INAA), ceramic petrography, and other forms of technofunctional analysis. He also has a keen interest in archaeological research design, including the use of probability based models for locating sites across cultural landscapes.
Research
Photo Gallery