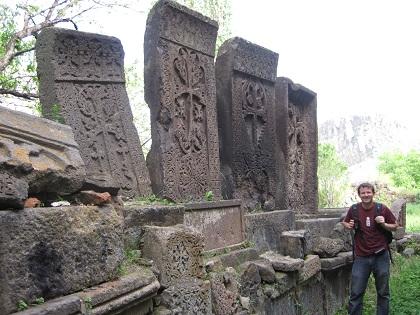 Biography
Sean graduated from Florida State with a B.S. in Anthropology in 2006. During his time at FSU, he had the opportunity to work on several archaeological projects including Letchworth Mounds, Buckeye Knoll, and the Dog Island lighthouse. He attended the KRAP field school in Hungary in 2006. The Buckeye Knoll skeletal sample is one of the largest old (6,000 years BP+) skeletal samples in North America (from Texas).
In 2007, he earned a M.S. in Geographic Information Systems, also from Florida State.
After graduating, Sean served in the United States Peace Corps from 2008 to 2010. He was placed in the Republic Armenia and worked mostly in the small village of Halidzor in the Syunik region of Armenia. He taught environmental education at the local school, ran ecological camps in the region, and campaigned for waste management awareness in coordination with USAID. He attributes his success as a volunteer directly to his studies of anthropology at FSU. One of the attached photos is from a trip to Chaco Canyon (see the gallery for more information).
Following his Peace Corps service, he began work with Harris Corporation in Melbourne, FL as a geospatial analyst. He currently works with satellite imagery for visual simulation and materials classification.
Photo Gallery