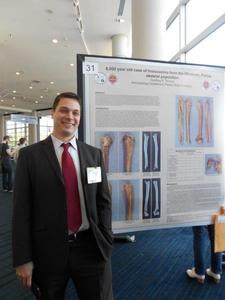 Contact Details:
Phone: (850) 644-8156
Email: gpthomas@fsu.edu
Office: Department of Anthropology / Innovation Park, Suite 211
Office Hours:

Monday 1:00pm to 2:00pm
Tuesday 10:30am to 11:30am
By Appointment

Vitae: Dr. Thomas's Vitae
Biography:
I was born on the island of Guam, although, I was raised in San Antonio, Texas until I was 8 years old. I spent the next 4 years living in Rome, New York, and another 4 years in Oakdale, Long Island. My junior and senior years of High School where spent in Mandeville, Louisiana where I met my future wife and found my fascination with the human body while interning at a local doctors office.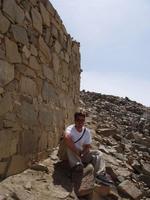 During my undergraduate career at Tulane University I began as a pre-med student, until I discovered physical anthropology. The subject matter itself fascinated me, and the enthusiasm and dedication of my professors was contagious. I took as many classes as I could, which quickly led me to change my major. As I progressed through the program, I discovered my passion for the subject and for teaching. I thrived on and looked forward to giving class presentations of my research to my professors and classmates. It was through these experiences that I developed my desire to become a dedicated researcher and teacher.
In 2005, I completed the 4+1 program at Tulane University earning my Bachelors and Masters Degrees. In 2007 I began the PhD program at Florida State University under Frank Marlowe and Lynne Schepartz. In 2008 I began my research on limb asymmetry with the adult Windover sample and during the summer of 2009 I expanded my dataset to include the adults and subadults from Windover, Indian Knoll, Pickwick Basin, and Mississippian samples. This research then formed the basis of my dissertation, which I completed and successfully defended in 2011 - earning my Doctoral degree.
Since the Fall of 2011 I have been a Specialized Assistant in Anthropology, teaching 3 courses per semester. I have also taken on the role of Undergraduate Advisor. This past semester (2015) I have been promoted to Associate Teaching Professor (Specialized Faculty) and was nominated for a Florida State University Excellence in Undergraduate Teaching Award.
Research Interests and Activities:
Skeletal Biology
Subadult Growth and Development
Functional Morphology and Biomechanics
Hunter-Gatherer Lifeways
Evolutionary Theory
Paleopathology
Courses:
ANT 2301 Evolution of Human Sexuality
ANT 2511 Introduction to Physical Anthropology
ANT 3520 Introduction to Forensic Anthropology
ANT 4586 Human Evolution
ANT 4525 Human Osteology
ANT 4468  Bones, Bodies & Disease
ANT 4930 Masculinity in a Cross-cultural Perspective
Select Publications and Professional Projects:
2016  -  G.P. Thomas. 8,000 year old case of thalassemia from the Windover, Florida skeletal  population. International Journal of Paleopathology. Vol. 14C: 81-90   
GPThomas 2016 - Thalassemia at Windover.pdf
2016  -  G.H. Doran and G.P. Thomas. Windover: an Overview.  In Mesolithic burials – Rites, symbols and social organization of early postglacial communities. Edited by: Judith Grunberg, Bernhard Gramsch, Lars Larson, Jorg Orschiedt, and Harald Meller. Halle: Landesmuseum Halle, 865-884
MesoBurials 2013_Doran-Thomas (compressed).pdf
2011  -  Patterns in Adult and Subadult Upper Limb Asymmetry from North American Archaic and Mississippian Populations. Doctoral Dissertation, Department of Anthropology, Florida State University, Tallahassee.
2010  -  Biological and Cultural Determinants of Handedness among the Hadza Hunter-Gatherers. Paper with F.W. Marlowe, American Anthropological Association, New Orleans, LA
2010  -  Cross-cultural comparison of upper limb asymmetry in adults and juveniles from the Archaic period of the American Southeast. Poster, American Association of Physical Anthropologists, Albuquerque, NM
2009  -  Upper limb asymmetry in the archaic Windover population from Florida. Poster, American Association of Physical Anthropologists, Chicago, IL
Research Papers in Development:
Thomas, G.P. Patterns in Subadult Upper Limb Asymmetry from North American Archaic and Mississippian Populations and the Effects of Culturally Specific Behaviors.
Thomas, G.P. and F.W. Marlowe. Biological Implications of Grip Strength Asymmetry among the Hadza Hunter-Gatherers of Tanzania.
Research Projects:
2016  -  Project Leader for the digitization of the Windover collection (8BR246). In conjunction with the FSU Digital Library Services, I am heading a project to digitize all field note, excavation unit forms, shovel test forms, images, maps, X-rays, and logs created during the excavation of the Windover burial pond between the 1984-1986 field seasons. They will then be housed and available through FSUs digital repository.
DigiNole: Windover Archaeological Site Collection