Dr. Jayur Madhusudan Mehta
---
Dr. Jayur Madhusudan Mehta
Assistant Professor
Undergraduate Program Director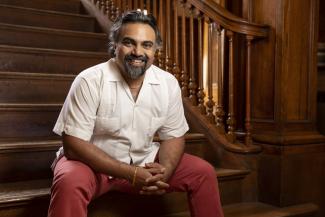 Contact Information
Department
Department of Anthropology
Office Location
Carraway Building CAR 311
Dr. Jayur Madhusudan Mehta is an Assistant Professor in Anthropology at Florida State University, specializing in the study of North American Native Americans, human-environment relationships, and the consequences of French and Spanish colonization in the Gulf South. Dr. Mehta earned his PhD in Anthropology from Tulane University (2015) and his MA (2007) from the University of Alabama. He received his BA from the University of North Carolina (2004) and is an avid Tarheel!  Dr. Mehta is also a Registered Professional Archaeologist and he has lead excavations in both the United States and Mexico. He is currently lead investigator for the Carson Mounds Archaeological Project (CMAP), a long-term study on the development of hierarchical and agricultural monument-building societies in the Lower Mississippi Valley, and Resilience in the Ancient Gulf South (RAGS), an interdisciplinary investigation into delta formation, hunter-gather settlement dynamics, and monumentality in the Mississippi River Delta region south of New Orleans. Dr. Mehta is a National Geographic research fellow and he has published research in the fields of environmental archaeology, ethnohistory, and indigenous religious and ritual practices.
He recently starred in a documentary called Keepers of the Mound, a film by Katie Matthews and produced by the New Orleans Video Access Coalition. http://novacvideo.org/keepers-of-the-mound/
Dr. Mehta is also an executive board member of the Gulf Communities Research Institute, a coastal Louisiana based non-profit that conducts research on the Gulf Coast and works to preserve the health, resilience, and lifeways of coastal communities threatened by sea-level rise and climate change.
Press:
World Press.com - Jayur Madhusudan Mehta
https://news.illinois.edu/view/6367/653233
https://www.sciencedaily.com/releases/2018/05/180522114822.htm
http://mississippiriverdelta.org/while-land-washes-away-how-do-we-save-louisianas-cultural-heritage/
http://www2.tulane.edu/liberal-arts/newsletter/dig-it-mehta-oct-2016.cfm
Dr. Mehta will be accepting Master's students for Fall 2019 in the fields of Ethnohistoric archaeology, Mississippian archaeology, and Applied Archaeology (emphasizing environmental research and public education and outreach).