Dr. Amy Kowal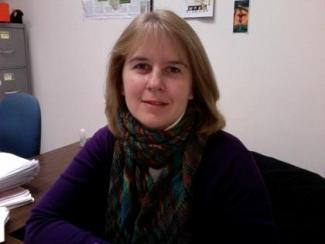 Contact Information
Department
Department of Anthropology
Office Location
Carraway Building CAR 207
Office Hours
Spring 2023 - Office Hours
Tu/Th 8:00-9:30AM and Wed 9:00-10:00AM ET
on Zoom/in-office & by appointment
Biography
Hailing from Buffalo, New York I attended the University of Buffalo and spent a semester as an undergraduate enrolled in courses whose descriptions appealed to me from the course catalog; one among them was Great Sites and Romantic Archaeology. My major changed, I spent my junior and senior years in the Anthropology Department developing an interest in the real story behind human history.
Florida's warmth and multicultural contact brought me to the Anthropology Department at Florida State University. Here I explored the history of the Southeastern United States from the Paleoindian period to the present day. Native Americans, minority populations, and contact situations are the subjects I still find most interesting. American history has always been of interest, now I just research the other side's point of view.
My research and teaching interests include community and cultural heritage, museum studies, sport and culture, historical archaeology, bioarchaeology, race, and ethnicity. My doctoral dissertation research focused on the exhibition of agency of the African American Population at Snee Farm, South Carolina seen through an analysis of the ceramic assemblage of the farm's main house, outbuildings, and slave village. I coauthored The Archaeological Report of the Charles Pinckney National Historic Site with Bennie Keel, a continuation of my dissertation research.
My primary responsibility is as a professor and advisor to undergraduate students here at Florida State University. Trained as a four-field anthropologist at FSU, I teach courses in each subdiscipline, emphasizing the cooperative nature of Anthropology as a humanistic science.
Academic Career: Ph.D. and MA in Anthropology from the Florida State University; BA in Anthropology from the State University of New York at Buffalo
Field of Study – Archaeology, Cultural Anthropology, and Biological Anthropology with interest in:
Museum Studies

Historical Archaeology

Sport and Culture

Cultural Heritage and Community Studies

African American Archaeology

Race and Ethnicity
Events:
Exploring Anthropology in London: Click Here to Learn More »
INFORMATION LINKS
Course & Registration Information   
     Facebook Page:     https://www.facebook.com/FSUAnthroLondon/
     Previous Trip Spring 2018:     https://amykowal.tumblr.com
     Previous Trip Spring 2017:     https://amykowal.tumblr.com/2017Class
     Previous Trip Spring 2015:     https://amykowal.tumblr.com/students
INSTRUCTOR
Dr. Amy Kowal, akowal@fsu.edu, (850) 644-4754
The next anticipated course offering for this class is Summer 2023. This is a wonderful opportunity for students to study abroad and see many prehistoric and historic cultural sites and experience modern London as well. Previous students made lasting friendships in addition to learning first-hand about English culture. Visit the links above to see what we have done during previous trips. Please follow the Facebook page to stay up-to-date of opportunities.
OVERVIEW
This program allows students to delve into British civilization's history from the Neolithic to the Millennium. Collections of artifacts are observed at famous London museums, building upon the archaeological methods and participant observation techniques learned in class. Ventures away from London will include a day trip to Salisbury Cathedral, Avebury, and Stonehenge to explore the World Heritage sites. Participants will also explore modern London and take in a West End theatre performance. Time is also set aside for afternoon tea, cultural interactions, and various historic landmarks.
AREAS OF STUDY
Anthropology, Archaeology, History, Museum Studies
ELIGIBILITY/PREREQUISITES
This program is open to any interested students enrolled in the International Programs Broad Curriculum Program in Summer. Students spend one month in London at the FSU Study Centre and take one or more courses four days a week. The fifth day everyone goes on day excursions within and nearby London. We even spend one weekend away at locations such as Bath or York. It is a fantastic opportunity to experience another culture.
EXCURSIONS
These may include:
Welcome dinner

Visits to British Museum, Museum of London, Tower of London, Victoria and Albert Museum, Museum of Natural History

London Eye

Theatre performance

Changing of the Guard at Buckingham Palace

Afternoon tea
INCLUSIONS
All planned excursions and activities

Housing

London transport pass

Access to FSU London Study Center

Registration fees and tuition
EXCLUSIONS 
Round-trip airfare

Passport

Food (except one dinner and tea, possibly some breakfasts)

Books

Personal activity and spending money

University fees