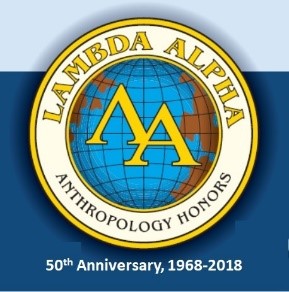 Established in 1968, the purpose of Lambda Alpha National Anthropology Honor Society is to both acknowledge and reward academic excellence.  The name Lambda Alpha is composed of the initial letters of the Greek words Logos Anthropos (Λογος Ανθροποσ), meaning the study of humankind.
Lambda Alpha supports scholarship and research by acknowledging and honoring superior achievement in the discipline among students engaged in the study of anthropology.  Superior academic performance is recognized through membership in the society.  Lambda Alpha rewards academic excellence through the annual awarding of student scholarships, research grants, and student paper prizes.



Kappa of Florida Chapter




Florida State University 




Contact: Faculty Sponsor 




Dr. Geoffrey Thomas – 

gpthomas@fsu.edu
Why Join Lambda Alpha National Anthropology Honor Society?
Joining a college honor society is a way of acknowledging superior academic achievement. Some honor societies recognize overall student achievement based on cumulative GPA.   Other honor societies recognize achievement in specific disciplines or majors, such as Lambda Alpha.  Membership in an honor society is a way to emphasize your superior academic performance in your professional credentials.  Membership in a college honor society is typically noted on your resume or curriculum vita to demonstrate that you achieved academic excellence while completing your college education.  Many potential employers and graduate program admission committees understand and appreciate the distinction accorded by membership in honor societies.
General Membership Policy
To become a member in Lambda Alpha, an anthropology major or minor joins an existing chapter in their anthropology department.
Membership requirements consist of a B average or 3.0 GPA in anthropology and no less than a 2.5 cumulative GPA for all coursework.  A 3.25 GPA is required for anthropology graduate students.  Undergraduate students pursuing a major or minor in anthropology must have completed a minimum of 12 hours of coursework in anthropology to apply for membership.
A complete membership application consist of submitting two items.  The two membership application items consist of a 1) a printed copy of your application form submitted to your chapter faculty sponsor for membership approval, and 2) a $25 lifetime membership fee submitted to your chapter faculty sponsor.
To apply for membership, please complete the application form available at the bottom of this section.  Please submit a printed copy of the membership application form to your chapter faculty sponsor along with the $25 lifetime membership fee.  Please submit to your faculty sponsor a check or money order for the membership fee made payable to Lambda Alpha Honor Society along with your printed application form.
After submitting the membership application form and check or money order, your chapter faculty sponsor will review your application and academic record to confirm that you meet the requirements for membership in Lambda Alpha.  The faculty sponsor signs your application form when it is approved.  Upon approval by your chapter faculty sponsor, the signed application form and membership fee payment are then forwarded to the Lambda Alpha National Office by your chapter faculty sponsor.  Upon receipt of these items, your application information is then recorded in the chapter records at the Lambda Alpha National Office.  You are then sent a Lambda Alpha membership certificate from the national office to confirm your acceptance as a member in the honor society.
Download Link: Lambda Alpha Membership Application Form