Dr. Michael A. Russo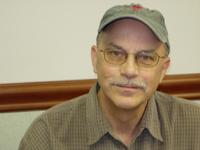 PhD. U of Florida, 1991. While at the University of Florida I spent most of my productive time at the Florida Museum of Natural History (FLMNH) studying under Jerry Milanich, Kathy Deagan, Elizabeth Wing, and Bill Marquardt, where processual environmentally-oriented and subsistence zooarchaeology was my focus. With my PhD on a unique Archaic shell midden and mound site at Horrs Island, Florida, my orientation towards faunal analysis began to shift from subsistence to exploring the social and ceremonial uses of fauna inherent in midden deposits in mounds and monuments. While working at FLMNH I surveyed the newly created Timucuan Ecological and Historic Preserve near Jacksonville, Florida where I continued explorations of Archaic mound-building cultures along the coast. Upon graduation I worked as regional state archeologist at the University of Southwest Louisiana, Lafayette, investigating Archaic ceremonial mounds. In 1994 I began working for the National Park Service with courtesy faculty appointment to Florida State University's Anthropology department. Here I continued work on Archaic coastal shell sites and expanded my investigations into Woodland period coastal shell-ring and mound sites. I've worked and continue to work with many FSU students who have participated in the NPS's investigations.
I am currently the Southeast Regional National Historic Landmark (NHL) Archeologist for the National Park Service, stationed at the Southeast Archeological Center (SEAC) in Tallahassee. The NHL archeologist is a position in which I investigate, nominate, and guide others in the nomination of archeological sites as National Historic Landmarks, a protected category of America's most valued cultural resources. Under that position I am currently involved in field studies of Swift Creek and Weeden Island sites in NW Florida for inclusion in an NHL historic context of Woodland period ring midden/ mound complexes. At SEAC I am also head of the ALTASC division which specializes in contract archeology and Cultural Resource Management practices.
Current research interests include zooarchaeology techniques, methods and theory; Southeast U.S. coastal ceremonial and domestic architecture; cartographic archeology, shell middens; historic and prehistoric maritime cultural landscapes; National Historic Landmark development; cultural resource management and contracting; and remote soils analysis.