Dr. Margo J. Schwadron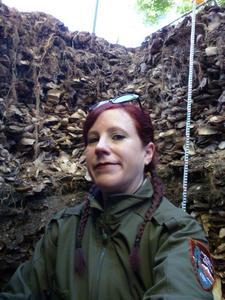 Dr. Margo Schwadron is an Archeologist for the National Park Service (NPS) since 1991 who specializes in wetlands, islands, coastal archeology and shell middens in the southeastern United States, especially south Florida and the coastal St. Johns region. Her research takes a landscape-centered approach to archeology, incorporating large-scale archeological survey and testing, remote sensing/GIS, and integrating paleo-environmental and paleo-climate research into understanding historical ecology and the interaction of humans and environment through time. Recent work includes National Geographic funded investigation of prehistoric hunter-fisher-gatherer shell midden sites from the Ten Thousand Islands in the Everglades, Florida, developing new perspectives on the recursive human-environmental relationships between communities, environment and landscape over time, as demonstrated through the construction of massive shell work sites. These sites represent the largest and most complex prehistoric shell constructions in the world, and are unique preserved prehistoric landscapes that reflect important hunter-gatherer-fisher histories. Other investigations include survey and testing of Everglades tree islands and the documentation of a petro-calcic limestone formation and the dating of human settlement within the region back 5,000 years ago. Much of her work is applied to National Park Service sites, documenting and protecting vulnerable sites from climate change impacts, and using paleo-environmental data to interpret past climate change.
Other interests center around historic altered human landscapes, including a recent investigation of the largest and southernmost 18th century British Period sugar plantation in Florida. Comprising a significantly preserved landscape including miles of slave-built canals, slave dwelling areas, and sugar factory ruins, Dr. Schwadron partnered with local volunteers and multiple federal agencies to document, preserve and protect this significant site.
Dr. Schwadron is also the Native American Graves Protection and Repatriation Act (NAGPRA) Coordinator for the NPS' Southeast Region, and engages regularly with Federally Recognized tribes in consultation regarding protection of graves and repatriation and reburial of human remains and grave goods. Her positive experience working with tribes has allowed incorporation of advanced scientific and technological methods such as geophysical survey, remote sensing, osteological analyses and 3D imaging and artifact replication into tribal work.
Dr. Schwadron received her B.A. in Anthropology from SUNY Purchase; her M.A. in Anthropology (specialization in Archaeology) from Florida State University, and her Ph.D. in Archaeology and Ancient History from the University of Leicester.
Links to abbreviated Curriculum Vitae and selected publications on Dr. Schwadron's Academia.edu website:
https://nps-gov.academia.edu/MargoSchwadron
Dr. Schwadron's Google Scholar profile: