Dr. Alexandra L. Parsons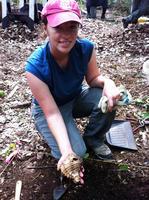 Dr. Alexandra Parsons is a zooarchaeologist who specializes in sclerochronological quahog clam seasonality studies. Her research centers on coastal pre-Columbian subsistence strategies and how these fit into past cultural, ecological, and climatic frameworks. Dr. Parsons is an Archaeologist for the National Park Service at the Southeast Archeological Center, where she works in the Climate Change and Applied Science Program. Her position as an Archaeologist for the Southeast Archeological Center involves conducting archaeological research on National Park sites in the southeastern U.S. She is an active member in the archaeological community and is currently conducting collaborative zooarchaeological research with scientists from the National Park Service, Florida State University, and the University of South Florida. Her general research interests include coastal archaeology, shell midden archaeology, resource scheduling, sedentism, bone tools, human impacts to past ecosystems, modern-day climate change impacts to archaeological sites, and archaeological interpretation for public audiences.
Dr. Parsons recently examined sedentism and seasonal use of resources at the late archaic Guana shell ring in northeast Florida. She evaluated quahog clam seasonality and generated a baseline clam collection for St. Augustine, Florida. This baseline collection will facilitate quahog clam seasonality studies at other sites in St. Augustine and the surrounding area. She has conducted zooarchaeological analyses at several shell midden sites ranging from the Late Archaic period to the colonial period. She has also worked on diverse artifact assemblages from Castillo de San Marcos in St. Augustine, antebellum cabins on Cumberland Island National Seashore, Georgia, and 19th century farmsteads in Virginia. Dr. Parsons' fieldwork experience spans regionally from Florida, Georgia, North Carolina, Virginia, Hungary, England, and Spain.
Dr. Parsons's ongoing research includes a collaborative study of well-preserved bone tools from the Anhinga Trail wetsite in Everglades National Park. She is also evaluating St. Johns-period bird use from the Castle Windy and Turtle Mound sites in east central Florida. Additionally, Dr. Parsons is conducting quahog clam seasonality studies at small island middens and large shell mound sites in Canaveral National Seashore, Florida and at Cape Lookout National Seashore, North Carolina. She is currently participating in Michigan State University's Institute for Digital Archaeology Method and Practice - a program that focuses on the application of digital technologies to the study, publication, and presentation of archaeological research.
Dr. Parsons received her B.A. in anthropology from the University of Central Florida and an M.S. in anthropology from Florida State University. She earned her Ph.D. in anthropology from Florida State University in 2012.