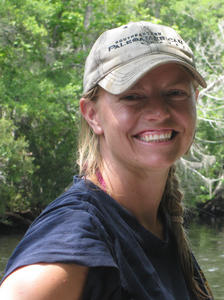 Contact Details:
Phone: (850) 645-7844
Email: jhalligan@fsu.edu
Office: Department of Anthropology / Innovation Park, Suite 232
Office Hours:

Tuesday 1:00pm to 4:00pm in Suite 232
Wednesday Noon to 3:00pm in Suite 232
By Appointment
Dr. Jessi Halligan is an Assistant Professor of Anthropology, with specializations in geoarchaeology and underwater archaeology. She is anthropologically-trained archaeologist with a focus upon the initial peopling of the Americas through my active research program in submerged Paleoindian sites in Florida. This focus leads to complementary foci in hunter-gatherer societies, geoarchaeology, sea level rise and submerged landscape studies, including underwater field methods. Dr. Halligan earned a PhD in Anthropology from Texas A&M University (2012) and a BA (2000) from Harvard University in Anthropology with a specialization in Archaeology. She has been a Registered Professional Archaeologist since 2012 and has more than two decades of field and lab experience in North American Archaeology. She has conducted research and/or worked on Cultural Resource Management projects all over the Northeastern United States, the Northern Plains, Texas, and the Southeast. Dr. Halligan is especially interested in the peopling of the Americas, climate change during the terminal Pleistocene and early Holocene, coastal site preservation, and human adaptation to major climate change.
Her dissertation discussed the geoarchaeological context of submerged Paleoindian sites in the Aucilla River of Florida, focusing upon landscape reconstruction over the past 15,000 years and human usage of the area during this time. This research included underwater survey and excavation, terrestrial survey, coring, sediment analysis, and a bit of remote sensing. Since graduation, Dr. Halligan has been actively involved in new investigations at the Page-Ladson site along with several collaborators and conducted extensive underwater and terrestrial survey and site evaluations of the surrounding area, with plans for field schools involving both underwater and terrestrial components.
She has taught courses on the peopling of the Americas, North American archaeology, geoarchaeology, lithic analysis, underwater archaeology, introductions to archaeology, and anthropology, archaeological method and theory, the archaeology and anthropology of hunters and gatherers, Southwestern archaeology and anthropology, and a senior capstone course in archaeology.